I used to be a commercial lender and bank president until 2004 when I began to serve God overseas among Muslims.
I have lived and worked in Beirut, Islamabad, Northern Pakistan, Kabul, Wakhan, Delhi and now in Kathmandu.  I have been privileged to serve on Bible Translations, re-organize Boards in remote areas, teach English and work in sewing centers in Pakistan, oversee projects in Afghanistan, and for the past 5 years train, equip and disciple Redeemed Muslims (our Leaders) to plant churches among Muslims in Muslim villages.  Our most recent work has been to open sewing centers (Centers) in Indian Muslim communities as a way to provide fertile ground for the Gospel while training Muslim women to sew and provide financially for their families and communities.   
Rick and I have been serving together to see churches planted among Muslims since 2006.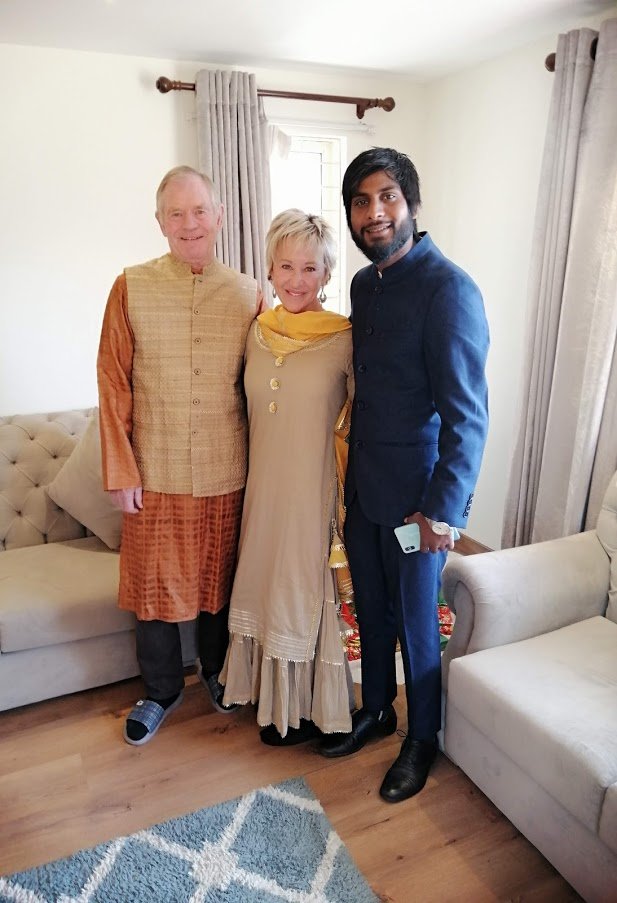 I was saved by the grace of God way back in 1973. Since then I have had many opportunities to serve our Lord in His Kingdom work. Since 2011 I have had the great experience with my wife, Colleen, of bringing the Good News to Muslims in various countries in South Asia. I especially enjoy digging deep into the Scriptures on various topics and teaching those who are hungry for God's Word. This passion fits perfectly into our ministry as I am able to help Muslims and redeemed Muslims come to a greater understanding of the true Allah.
Project Manager.  Abu is responsible for all of our Southeast Asia projects including our Leader Development, Sewing Centers, Cottage Industry and Village Projects. 
We have seen many Muslims coming to faith when they hear the Gospel from a redeemed Muslim who is culturally similar to themselves, in their language, and then brought into a Jamaat (community of believers or home church), where they can be discipled and grow in Christ.
Rick and I live in South Asia.  Together we train, equip and encourage redeemed Muslims to grow in Christ, stay in their Muslim villages, plant and grow Jamaats (churches) and reach other Muslims who do not know Christ. 
We do this in several ways:
–  We Train and Disciple redeemed Muslims (Leaders) in how to plant and grow Biblical Jamaats (churches).    Our methods vary, but we always train to be obedient to God's Word and use Discovery Bible Methods, Group Interactions and only Scripture as our resource and guide.  They use these methods to train, equip and disciple in their Jamaats and Sewing Centers for both men and women. 
–  We fund start up Sewing Centers (Centers) so that Leaders, their wives and gifted women in their Jamaats have sources of income to sustain themselves and their families so they can remain in their villages during persecution and have opportunities and environments to reach their Muslim communities. The persecution they suffer can range from beatings, children being denied access to education, loss of jobs, denied access to food, homes burned or rummaged, to loss of life. 
–  Our Sewing Centers provide fertile ground for the introduction of the Gospel and people to Christ.  Through the training in sewing, we give a skill and income opportunity to women to encourage their self-esteem and financial growth, we also believe uplifting women benefits their family and the community.  Our Centers give us access to the broader communities in which they exist through the relationships that are built in them and the reputation that proceeds from them. This is extending the hands of the Gospel.    
–  We also fund special projects in our Leader and Center villages to share Christ's Love.  They reflect what Jesus did…. love those who are persecuting them.  Some examples of our projects include Jacket Distributions during winter month, Food Distribution during Covid Lockdowns and Dental Clinics in Muslim villages to educate families about dental hygiene and resources for dental care.  
All of the people we work with are former Muslims who now know Jesus, have started Jamaats and Sewing Centers and want to reach their Muslim brothers and sisters.  In total the people we work with have over 450 Followers of Christ in their Jamaats.